2007 Graduation
The Gift of an Education
Visitors driving onto the Boys Ranch campus were met with 34 plaques staked along the entry road, each with a name of a high school senior emblazoned on it. The plaques were a visual reminder of the many lives changed by Cal Farley's Boys Ranch.
During the graduation ceremony, those young men and women proudly donned their blue caps and gowns, and listened to encouraging words by their classmates and members of the administration before walking regally across the stage to accept their diplomas.
The messages were uplifting.
"Follow your dreams, pray daily, smile a lot and laugh all the time," said Rachel, the class salutatorian.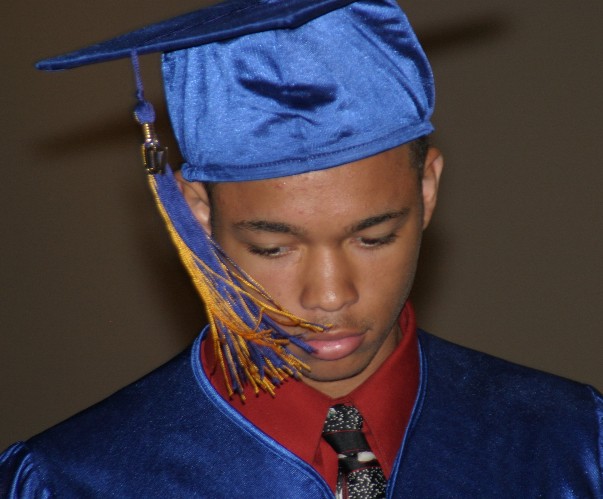 Kara, the class valedictorian, reminded them of their impact as class members. "Whether you participated as a sports hero or as a fan in the stands, you are a Roughrider - we are all Roughriders. Each of us as individuals, with different personalities, has made a difference in the Class of 2007."
Now, as one door gently closes behind the graduates, many others will open wide. Sixty-three percent of the class will seek higher education goals, including Callie and Matt, who were recognized as the recipients of the Cal and Mimi Farley Scholarship. And whether pursuing a college degree, or entering the workforce, we wish them success as they accept the gift of an education and follow their dreams.
"You can choose to use your education wisely, or you can choose to throw it away," said Nena Mankin, BRISD superintendent. "But knowing this class, I know that you will use this gift of education to take you further in this life. Use what we have given you at Boys Ranch. Set your goals high. Never settle for less than your very best."
Girlstown Seniors Glance Back & Focus Forward
Through laughter and tears, eight Girlstown seniors said farewell to their peers, house parents, teachers, and other Girlstown staff and invited guests during Girlstown's senior banquet. The young women offered their tanks as they confidently shared their insights, humorous anecdotes, and pearls of wisdom concerning their experiences while living at Girlstown.
"These girls are special to us," Robert Marshall, Girlstown campus administrator, told the audience. "They are a good group of girls, and they've got some high hopes and dreams."
"I thank God for providing all of these wonderful people in my life," said Liz, 17. "Now the time has come for me to show you that I can succeed in life, and I am going to do that with God's help. Thank you all for being there for me and for not giving up on me."
Kayla, 17, offered her fellow residents a few insights about making the best of their time at Girlstown. "First, open yourselves to change. It is unbelievable how much you can learn. Girlstown is here to help you, not hurt you. All you have to do is give it a chance. Next, lose the past. Many of us have had horrible things happen to us in our past. But lucky us, we have been blessed with a world of endless opportunities. Instead of seeing Girlstown as a cage, see it as a window to success. Third, find what you love and pursue it with persistent drive. No one is going to hand you your dreams. You have to go out there and take them."
All eight graduates, who represent Texas, New Mexico and Louisiana, plan to attend college to pursue careers that help others. Several intend to become nurses, a couple would like to become veterinary technicians, and one graduate wants to study psychiatry.
"It's an awesome experience to get to be a part of your lives," Mr. Marshall told the seniors. "Thank you for sharing your lives with us."
The Roundup (May/June 2007)